Individual Peace paves the way for world peace.
The attainment of inner calm is the greatest work you can do for humanity.
—  Sivananda
Today's Tea & Peace Reflection
provided by
Shilpa Amin-Shah, M.D.
Health Benefits of Drinking Tea
Tea has been recognized for thousands of years in the East as a key component to good health. Reseachers and consumers in the West are discovering the many health benefits of different types of teas. The active ingredients in tea, like flavonoids, caffeine, fluoride and theanine, may have positive effects on our body's functioning.  
Today's Tea Region:
Kenya, Africa
The tea included in the Global Tea Blend has been provided by:
Tea in Kenya
The first tea plants were started on a small farm in the Limuru area in 1903 by a European settler, GWL Caine. It did not reach a commercially viable stage of development until 1924. The Brooke Bonds Company sent Malcolm Fyers Bell to establish the first commercial estates. Since that time, tea production in Kenya has grown. and is now ranked as the largest producer of tea. Tea is also one of the most valuable crops for Kenyan agriculture. They have the benefit of a tropical climate, volcanic soils and significant rainfall.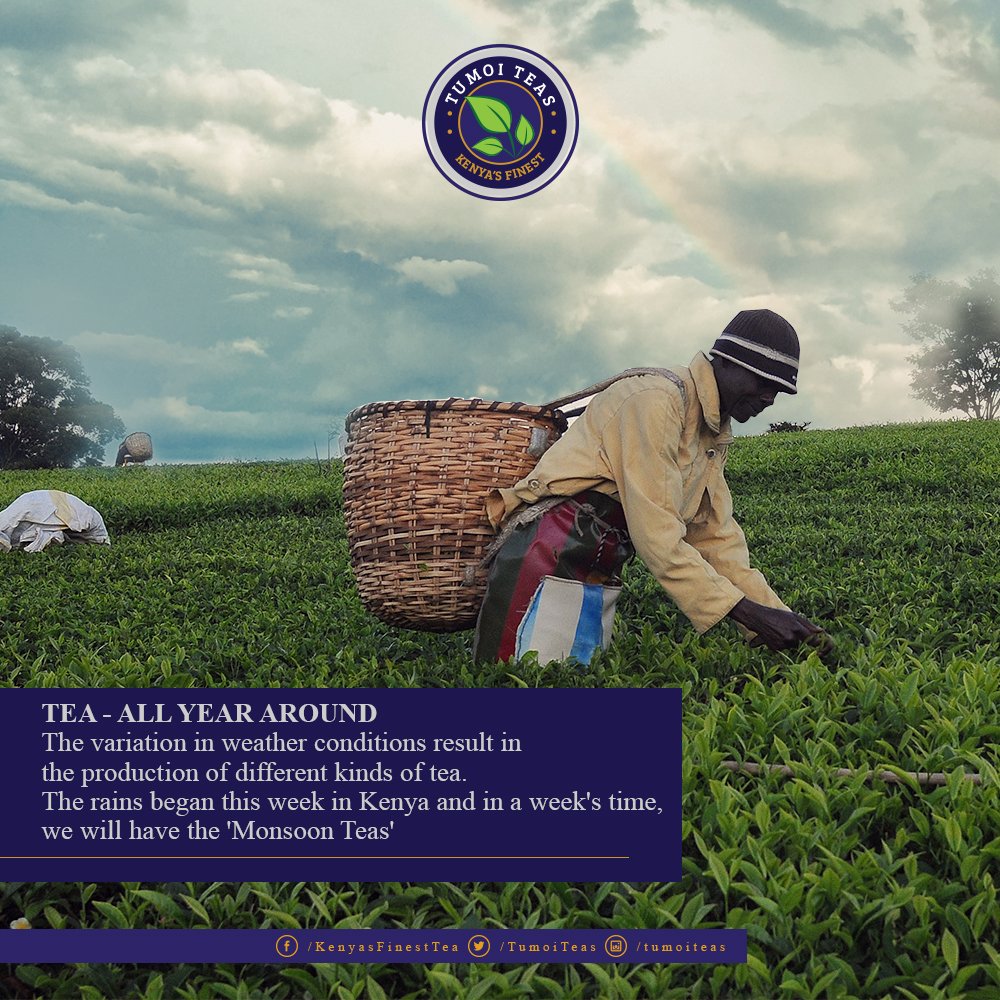 About Tumoi Tea Farms
Tea Story:
The Tea Board of Kenya has granted Tumoi Teas the very first cottage-factory license to produce Artisanal Teas. We are crafting incredible new teas for the world market, unlike anything you have tasted before from Africa. Tumoi Teas is currently impacting over 200 tea families in Kenya: creating sustainable employment for women and youth. Tumoi pays their farmers, pluckers, and factory workers 30% more than current industry rates. Tumoi Teas offers you the full transparency of your tea and an authentic farmer connection. Tea drinkers can talk directly to tea farmers through our new social media features: including live video chat from the tea garden! These delicious teas and farmer-direct story are an exciting change in the Kenyan tea industry.
Glowing Green: Direct/Fair Trade from Tumoi Teas Cottage Factory
Provenance:
Origin: Nandi Hills, Kenya
Grower/Producer: Jacob (father) & Boaz Katah (son)
Elevation: Grown at the highest elevation of tea gardens in Africa: 6,700 ft above sea level.
Cultivar: TN 14/3
Cultivation: Currently under conversion for organic certification (expected 2020). Very clean. No pesticides/chemicals are ever sprayed on the leaves.
Plucking Standard: Carefully hand-plucked, 2 leaves and a bud
Processing Notes:  Plucked, Pan-Fired, Rolled, Dried.
Caffeine Content: Low, Green tea
Leaf Grade: Artisanal, Full Twisted Leaves.
Brewing Suggestions (feel free to experiment):
Water: 175˚F
Tea: 3g (1 tea spoon) per cup of water.
Infusion: 3 Minutes. Steeps 2 infusions (2nd infusion may require longer steep time and slightly hotter water).
Tasting Notes:
A clean and smooth Kenyan green unlike any other green tea on the market. Whole tea leaves steep multiple infusions of vibrant green liquor. Notes of crisp asparagus, fresh cabbage and toasted oats.
How To Pick Tea – This World: The Tea Trail With Simon Reeve – BBC
Huge Tea Plantation – This World: The Tea Trail With Simon Reeve – BBC
Focus on Tea Production in Kenya