Tea Tourism From . . .
One Time, One Meeting
by Colleen Opitz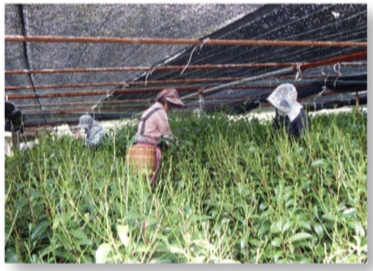 Hakuyoucha, page 30
We learned quite a bit about the "new tea: Hakuyoucha, which is a Shaded White Leaf Tea. It's a green tea, but the leaves are very light in color. We were served some of the Hakuyoucha and it was delicious! It contains a rich and round taste with accentuated umami, fit more for a special occasion than an everyday tea.
Partaking in Chanoyu  (page 27)
Lessons in the Japanese tea ceremony.
We each had an individual lesson in the steps of chanoyu; so much to remember! For those who train and master the art of the Japanese tea ceremony, it takes many, many years to accomplish.  …  We were particularly intrigued to learn and practice the art of folding the napkin (chakin) used to clean the utensils and tea bowl (chawan).